Our Boat
Tiller Girl is a 57 foot  cruiser stern narrow boat with a reverse lay out which means the galley –otherwise known as the kitchen- is at the back of the boat or the 'Stern'. Very handy for popping down to fetch cool drinks or a snack or two to keep the skipper hydrated when cruising.
Walking through the well equipped galley, the salon opens out to a comfortable seating area with large sofa bed with under bed storage, TV monitor/DVD player with USB adaptor and the book case full of games and magazines for your use.
Passing the Multifuel stove walk through  to the shower room, with flush ceramic toilet and full size shower- especially for that taller person (like my OH at 6 foot 3 in) who need a little more room to shower.
Moving forward from the littlest room in the boat to the spacious front or 'bow' cabin you will find 2 large wardrobes with hanging space and storage for your personal belongings and also 2 directors chairs, table for sitting out and a BBQ. The king size bed boasts a fully sprung mattress, feather duvet and a high quality fluffy pillows make for a good nights sleep.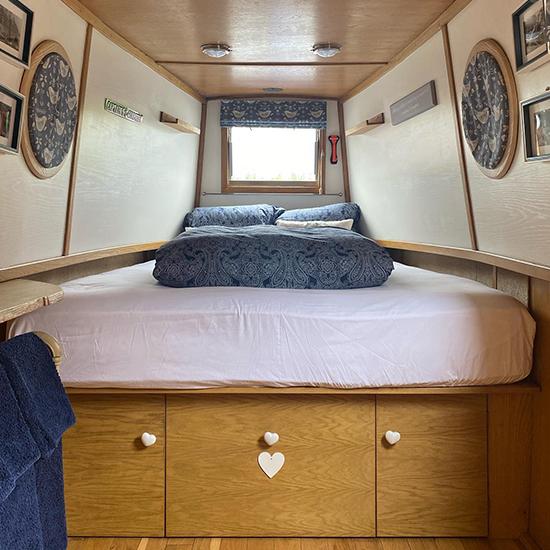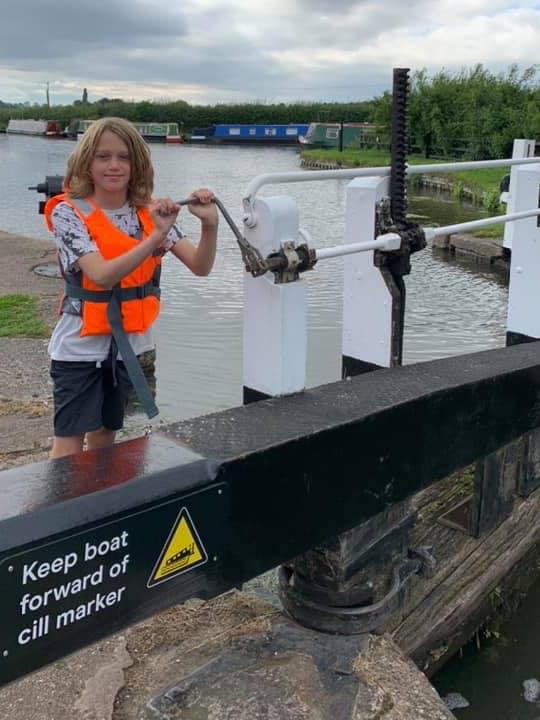 Boat Know How
Tiller Girl is equipped with life preservers for all guests large or smaller. . 
We advise these are worn at all times that the boat is cruising as we all know  accidents can happen and we would like you all to return home safe and well!
As we leave the marina the designated  skipper takes control of the tiller and we will guide you along the River Trent to Derwent mouth lock, guide you safely through and show you the ropes (!) and how to moor up securely on the canal towpath. This is a good time to ask any questions, take a breath and let the information sink in with a cuppa before we leave you to set off on  your own.
Towpaths can be busy places with cyclist, fishermen, walkers and horse riders. Please make sure you use common sense sharing the towpath. Mooring ropes should secure the boat but also not impede passers by.
Remember towpaths are dark at night. Please make sure mooring stakes are highlighted with the hi-viz stake hoods provided.
Please keep your dogs under control and clean up after them.