We provide everything you should need for your holiday on Tiller Girl, duvets and pillows, bed linen and towels as well as hand-wash and toilet rolls!
The galley has a full size domestic cooker and fridge to store your holiday food delights, although there are more than enough fabulous pubs and restaurants to have that much needed night off from cooking. It is a holiday after all!

There is ample (and more!)  tableware and cookware  including  mugs, dinner and side plates,  bowls and glasses ( see our inventory for a full list).  Dish cloths, tea towels and eco friendly cleaning supplies  as well as cling film and aluminium foil are  all on board so you don't need to pack all those everyday essentials, including tea and coffee  for your well earned cuppa when you arrive.
All the gas and diesel required for the length of your holiday is included in the price so there are no worries about extra payments on return to the Marina.
Tiller Girl has  full central heating  and hot water throughout ( we all know what spring and autumn weather is like in Britain!) and be careful as the water becomes toasty hot for your shower after a hard day (?) on the canal. (The water is also heated by the boat engine so always hot). You will also find logs for the stove in the basket for Autumn and Winter breaks, enough for your first  couple of nights.
There are smoke alarms and Carbon monoxide detectors in each room as well as extinguishers which we will demonstrate on your introductory tour..
Scroll down to view the available dates calendar 
Please make all bookings by email or phone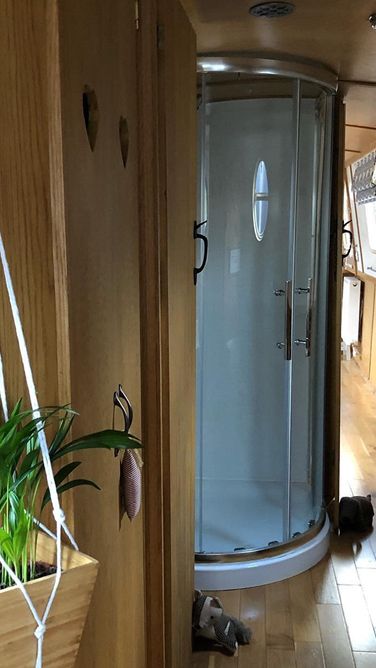 "This is a brilliant boat NOT your typical basic fleet hire. It's very well equipped with everything you need. Very homely and comfortable. We had it for 4 nights and loved every minute of the trip. Melanie (tiller girl) is a great host – goes out of her way to make sure you are happy to set off on your own. Highly recommend." Vic and Sheryll Aug 2021